To commemorate the 30th anniversary of the UN Child Rights Convention, titled, 'Reviving Pakistan's Parliamentary Commitments on Child Rights' was held on November 19, 2019 at Pakistan Institute of Parliamentary Services Islamabad.  The National Assembly in collaboration with UNICEF Pakistan organized the event. The Speaker National Assembly, national and provincial parliamentarians, judges, senior government officials, civil society partners, academia and other stakeholders attended the meeting.
The event opened with the National Anthem and recitation from the Holy Quran. Syed Shamoon Hashmi Joint Secretary, PMU, National Assembly, Pakistan opened the event by acknowledging the efforts of Speaker National Assembly in constituting National Parliamentary Task Force on SDGs to ensure effective oversight and legislative interventions on SDGs Agenda 2030.
Ms. Mehnaz Akber Aziz Member National Assembly and Chairperson SDGs Sub-Committee on Child Rights of the National Parliamentary Task Force on SDGs, welcomed the Honorable Speaker National Assembly Mr. Asad Qaiser, parliamentarians, civil society partners, government officials and children from government & private schools on their invaluable contributions and strong commitment towards children of Pakistan.
While sharing the story of consultative meetings in all the four provinces she expressed her strong commitments to protect rights of children and further said that the coming year will be pro-child rights. Hon. Ms. Mehnaz Akber Aziz praised and thanked the Speaker National Assembly for his commitment and determination towards protecting child rights.
Hon. Ms. Mehnaz Akber Aziz also presented a gist of the discussion that took place during the consultation meetings in the provinces. She said that these meetings gave us the information about the status of child related issues, absence of financial allocation in the budgets required for implementation, laws that exist on the statute books and identification of the lacunas and anomalies, duplications and discrepancies in the national and provincial laws related to children.
Ms. Aida Girma, Country Representative, UNICEF Pakistan, the guest on the panel said that Pakistan was one of the first countries to ratify the UN Convention on the Rights of the Child and has made progress in a number of areas to advance children's rights. She said that due to poverty, millions of children in Pakistan continue to be left behind, deprived of services that are essential for their health, nutrition, education, protection and participation.
Hon. Mr. Riaz Fatyana, Member National Assembly and Convener Parliamentary Task Force on SDG's in his address, congratulated the Chairperson of the SDGs Sub-Committee on Child Rights for her commendable efforts to convene the consultations and bringing the core issues related to children to the limelight. He further added that being a signatory of Sustainable Development Goals, Pakistan like other nations formulated policies and developed mechanisms to address issues like disability, malnutrition, child mortality improved maternal health. In addition to maternal and child mortality, malnutrition also results in high stunting, wasting and underweight which leads to human and economic loss.
Hon. Member assured his full support and commitment in this regard. He further added that a concerted and coherent national policy in line with the Child Rights Convention is imperative which trickles down to the provinces. He also said that Sustainable Development Goals complement our country's own development needs and priorities, as articulated in "Vision 2025". Moreover, Mr. Raiz Fatyana said that the priorities of the incumbent Parliament and the priorities of the Taskforce are in line. As Convener of the Task Force, he promised to render his ultimate support and service to the Sub-Group on CRC and the entire Task Force on Sustainable Development Goals.
Hon. Mr. Asad Qaiser, Speaker National Assembly of Pakistan in his inaugural address said that the basic duty of parliamentarians is to legislate or reform laws, 'we are also mandated to exercise oversight on the performance of institutions, hear public petitions and provide input on policies and strategic issues and we use rights based participatory approach to discharge our functions'.
He said Pakistan's present and its future depends on the realization of child rights, including their right to survival, development, protection and participation. With 39% of Pakistan's population under 18 years, the latest data shows Pakistan has 80.4 million children. This makes it imperative for laws, policies, programs and interventions to champion rights of the child effectively. Honorable speaker also added that after the 18th Amendment to the Constitution of Pakistan, subject of human rights including child rights have been devolved to provinces.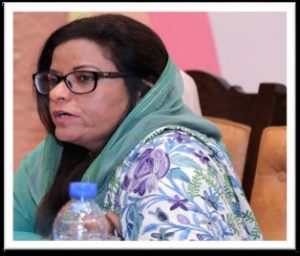 A panel discussion session was also organized, where members SDG's Taskforce; representing respective provinces, were invited to share the child related issues and legislations. Dr. Nausheen Hamid, MNA, and Parliamentary Secretary Health Services chaired the panel. The other panelists included Dr. Nafisa Shah, MNA, Ms. Nafisa Iniyatullah Khattak, MNA, Ms. Zara Wadood Fatimi, MNA, Ms. Ayesha Bano, MPA from KPK. Ms. Munawara Bibi Baloch, MPA from Balochistan.
Ms. Naureen Farooq Ibrahim, MNA, presented the vote of thanks to the participants including the parliamentarians, civil society, student and partners for their keen interest and lead on the Child Rights legislative Review. Ms. Naureen Farooq highlighted that inequality in education system need to be addressed. She said unless we educate our children and that too at early age through multi-sectoral institutional framework, we cannot bring substantial change in our society.