The Sub-group of the SDGs Parliamentary Taskforce on Gender Equality (SDG-5) organized a Stakeholders Consultation on March 10, 2020 at SDGs Secretariat. The consultation aimed at working on strengthening the oversight of gender sensitive legislations and policy and to create linkages with the institutions working on Gender Issue. The Members of SDGs Parliamentary Taskforce and senior officials from the National & Provincial Commissions on Status of Women from ICT, KPK and Punjab attended the meeting.
The meeting began with an introduction by Hon. Ms. Shandana Gulzar Khan, MNA and Chair of Commonwealth Women Parliamentarians on Sustainable Development Goals (SDG's), which aims to end poverty, protect the planet and ensure that all the people enjoy peace and prosperity by 2030. The aim of SGD5 is to provide women and girls with equal access to education, health care, decent work, and representation in political and economic decision-making processes, which will fuel sustainable economies and benefit societies and humanity at large. Hon. Ms. Shandana Gulzar spoke about 2020 being a pivotal year for women's rights due to the 25th anniversary of the Beijing Declaration on Women which is a comprehensive action plan on advancing the goals of equality, empowerment and peace for all women everywhere in the interest of humanity.
She elaborated on the role of the SDGs taskforce as a 50 cross-party member organization under the leadership of the Speaker National Assembly of Pakistan and that there are only a few such voluntary taskforces globally. Their task is to ensure regular parliamentary oversight, effective legislative inputs and meaningful representation in the House. In addition, they are tasked with oversight on International development commitments, enact and influence policies related to SDGs and build consensus on key challenges.  She said similar task forces are also functional in the Provincial Legislatures of Pakistan. 
Hon. Ms. Shandana Gulzar Khan explained to the participants that post 18th amendment, many issues including women's development were a devolved issue, however the mandate of this taskforce of the Speaker was to ensure that the federal government provides means and ways to ensure implementation of Agenda 2030 of the United Nations. As such this taskforce provided an opportunity for partnerships across the board and for ensuring effective coordination amongst all bodies working on SDG-5.                              
This was followed by detailed presentations by the representatives of various organizations including federal and provincial National Commissions on the Status of Women (NCSW) and UN Women.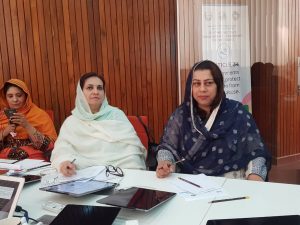 Hon. Ms. Zill e Huma stated that the harassment in Balochistan universities and drugs is a pertinent issue and has not yet been resolved. Hon. Ms. Shandana stressed the need to highlight important work carried out by National Commission on Status of Women through significant media coverage and that besides urdu radio shows for women, shows in local languages must also be launched. Issues with funding were discussed. The Hon. Parliamentary Secretary Finance Mr. Zain Qureshi stated that he would be looking into the finances in this regard. It was discussed that the @HeForShe campaign must be brought back into stride.  Moreover child marriage restraint bill needs to be brought back for review. The Hon. Parliamentary Secretary Health Dr. Nausheen Hamid indicated towards the need for a comprehensive plan to ensure that gender-specific perspectives must surely be integrated at all stages of policy design and national programmes. Hon. Senator Sana Jamali indicated that Balochistan does not have a Provincial Commission on Status of Women. It was decided that this would be brought to the attention of the Hon. Speaker and Hon. Deputy Speaker for actionable steps to fill this gap.
Hon. Convener for SGD-5 Ms. Shandana Gulzar Khan stated that regular meetings will be held and progress would be shared periodically. A work plan for the coming months would be finalized soon. Members were thanked for their valuable advice and inputs.