Lead Parliamentary SDGs Secretariat
Hassan is a development specialist with expertise in Parliamentary strengthening and sustainable development. He has worked with multiple leading non-governmental as well as governmental organisations for over 08 years on strategic planning, political advocacy, and research. 
As a consultant on sustainable development, he has worked with various international organisations and UN bodies to strengthen the role of Parliament in effective representation, oversight, and evidence-based legislative interventions. He has also developed results-based strategic plans for the National Assembly of Pakistan. Hassan has designed specialised monitoring instruments for the Parliament to oversee progress on the Agenda 2030. He is currently based at the National Assembly of Pakistan as UNICEF's lead Consultant for the Parliamentary SDGs Secretariat. 
Mehreen Mubashir is a Development Associate and Parliamentary Researcher. She serves as a UNICEF's consultant and contributes to policy matters and day-to-day affairs of the National Parliamentary Taskforce on SDGs at the Parliament of Pakistan. She graduated in Political Science from Kinnaird College, Lahore and conducted her final year thesis in the field of parliamentary studies. In the past, she has also served as an intern at the SDGs Secretariat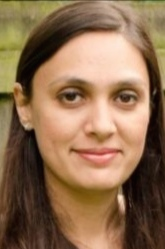 Faryal is currently working as a Consultant at the SDG Secretariat. Faryal holds a Masters degree in Local Economic Development from The London School of Economics and Political Science, UK.
Faryal has worked on various social impact projects both in UK and in Pakistan. Previously she has taught as a visiting faculty at various universities and also worked on community projects for the refugees in Pakistan. She has been working with an Education Consultancy for children of government schools where she researched and wrote various children's books. After graduating from LSE, she gained work experience as a Strategic Development officer at Harrogate Borough Council. Faryal also prepared a report on Alternative Provision (AP) environment in UK to provide insight for future investments in AP projects. She was an active member of Institute of Economic Development, UK. Faryal is passionate about helping bring about positive change through SDGs.
Waqar Ul Shams is a Technical Coordinator from Westminster Foundation for Democracy deputed at National and Provincial Assemblies of Pakistan. He is working among various segment of the Parliament including SDGs Secretariat, Women's Parliamentary Caucus (WPC), Public Account Committee (PAC) and Pakistan Institute for Parliamentary Services (PIPS) to foster the partnership with relevant civil society. He is a gold-medalist in Geo-Informatics Engineering from National University of Science and Technology (NUST). In past he also served as UNICEF consultant in SDGs Secretariat.
Wardah has a MS in Gender and Women Studies. She is a staunch believer of women empowerment and thinks that women are catalyst of socio-economic change in any society. She has provided consultancy to UNICEF Pakistan on social protection and gender responsive programming and is actively engaged with Sustainable Development Goals Secretariat at National Assembly of Pakistan to help fulfil Pakistan's commitment towards SDG 2030.
Wardah is an alumna of International Visitors Leadership Program on Women in Politics and Civil Society whereby she explored practices in promoting women's contributions in social and political affairs, examined legal, regulatory, and policy issues. She was also awarded Emerging Young Women Leader's Award supported by the Australian High Commission and Institute of Peace and Diplomatic Studies. She has travelled to many countries to present the gender case of Pakistan.
Her drive for human rights' advocacy has forced her to work tirelessly for the social, political and academic awareness of youth since early university years. She has worked on program 'WomenCanDo' that works with women universities and seminaries to develop their entrepreneurial skills. She's a certified youth trainer and has worked with a range of development organizations on various training opportunities
Sadaf Azam has completed her L.L.B Honours from the University of London.  Previously she was interning at HMA Solicitors and also worked on various human rights cases with different barristers from Doughty Street Chambers in London, United Kingdom.
Before joining the Sustainable Development Goal Secretariat she served as an Associate at Jamal & Jamal Advocates & Legal Consultants. She formerly interned at Raza Khalil Abbasi – a law practice. Her experience at the Supreme Court  in Gilgit-Baltistan included assisting on cases involving honour killings and child labour in Northern Pakistan. 
Anushe holds a Bachelors degree in Politics, International studies and Islamic Studies (Hons) from the University of Melbourne, completing her honours thesis in 2018 on the nexus between religious rhetoric and politics in late twentieth century Pakistan.  
She began her career in community organising and policy, working with Amnesty International Australia, the Islamic Council of Victoria and the Refugee Migrant Children Centre.   
 She has knowledge and research interests in South Asian politics, Middle Eastern politics, refugee and youth policy frameworks
Shakil Ahmad holds a master's degree in governance and public policy from National University of Modern Languages. He is working as National Volunteer "Volunteering for Development Specialist Networking and Coordination officer" with VSO and based at SDG's Secretariat. He has research interest in local governance, political economy and evidence-based policy analysis.  Prior to his placement at SDGs, he served with leading national and international research institutes.